Fortnum & Mason was first founded in London's Piccadilly in 1707. The essential destination is a hive of activity – celebrating exceptional service combined with extraordinary food. There is a deep sense of excitement and wonder when walking through the famous doors at Piccadilly. Sharing the same values of exceptional service and love for quality products, Heirlooms and Fortnum & Mason are both proudly appointed with Her Majesty The Queen's and HRH The Prince of Wales Royal Warrants.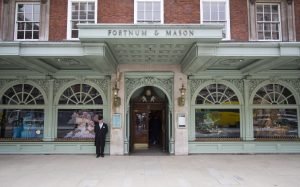 The continued support and celebrations for HM The Queen's Platinum Jubilee brings an exciting and welcoming display as Heirlooms returns to Fortnum & Masons for this special event. This summer, in partnership with the Queen Elizabeth Scholarship Trust, Fortnum & Masons are hosting an exciting showcase of handmade British craftsmanship. 'The Art of the Exceptional, a Jubilee Celebration of Makers' is a series of four exhibitions taking place between March and June to celebrate the wealth of talent supported by QEST.
Throughout the exhibition, the 3rd floor is joined by a handpicked selection of products from fellow Royal Warrant holders. Recognised by the Royal family for the quality of our craftsmanship, Heirlooms are proud to have a pop-up display at the exhibition to showcase a selection of our hugely popular Home Collection bed linen and table linens.
Whilst Fortnum & Masons is instantly recognised globally for its distinct and vibrant shade of turquoise it is also famous for its extravagant gift baskets. Therefore, understandably for the crowning moment of the exhibition is to be the creation of the 'Jubilee Hamper'. A wonderful project which is synonymous with the stores signature product and the wonderful creations of the QEST scholars. This will be a one-of-a-kind handmade wicker basket filled with the exquisite products created during the exhibition.
A visit to the exhibition, which is open 14th March – 19th June, is hugely recommended and will certainly be a historic moment for the celebration of the Queen's Platinum Jubilee.
You can read more about the exhibit, here.