Decorex International is home to established designers and budding enthusiasts. Founded in 1978, the show is a hive of design professionals, thought leading seminars, and endless amounts of inspiration.
2022 was Heirlooms 15th year at the show. Another year of proudly showcasing our beautiful and luxurious linens. As Royal Warrant holders, we pride ourselves on our enduring quality and ability to run wild with new designs. Each year, the creative team at Heirlooms enjoy producing new designs and products to display. In previous years, we have shown Botanicals, Jewel tones and Mother Nature inspired themes. This year's theme was inspired by the soft colours and clashing prints from English homes, country cottages and their blossoming gardens.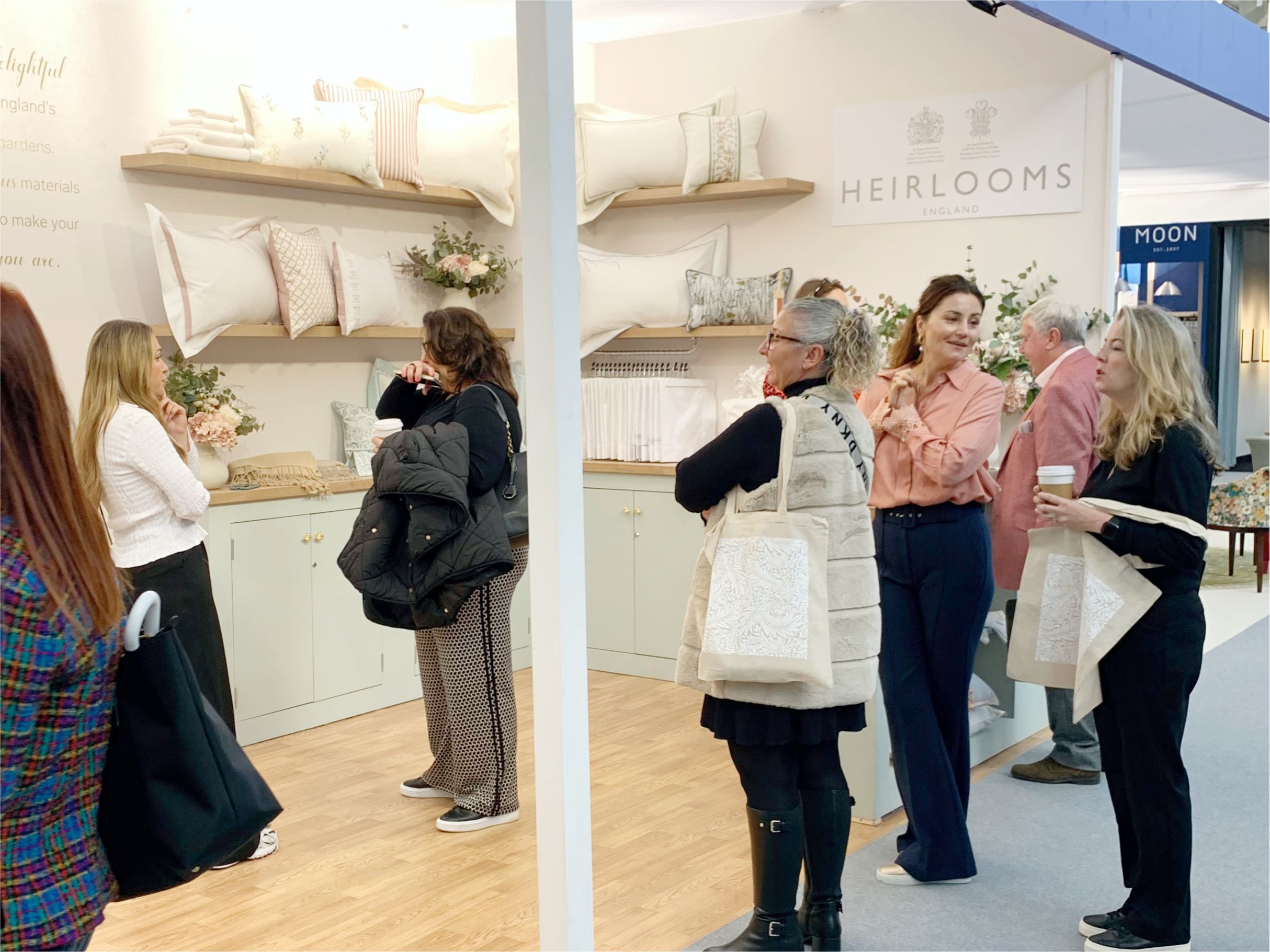 A fresh new stand was created and with the theme in mind we had great fun choosing cracked clay and dusted moss tones to complement heavily patterned floral wallpaper and iconic wall panelling. As our most colourful stand to date, we were slightly apprehensive but also extremely excited. This chosen palette brought to life the products we had designed for our stand. The soft tones from the wallpaper were echoed throughout the fabric, piping and embroidery colours to balance out the display. With clashing prints being the perfect way to pay homage to the classic English country cottages we see in interior design books, so we made sure we had plenty!

The main display bed was a treasure trove of William Morris fabrics, whimsical floral embroideries and delightful braids and tapes. The linens were chosen by the team in soft peach and blush tones to complement the scheme of the stand and create a welcoming, relaxing space. Visitors to the stand regularly commented about how the gorgeous the decorative cushions were and that they were fit for a palace. The bed itself was kindly loaned by Natural Mat. The dark green felt on the headboard gave a backdrop that made our linens stand out, the perfect choice!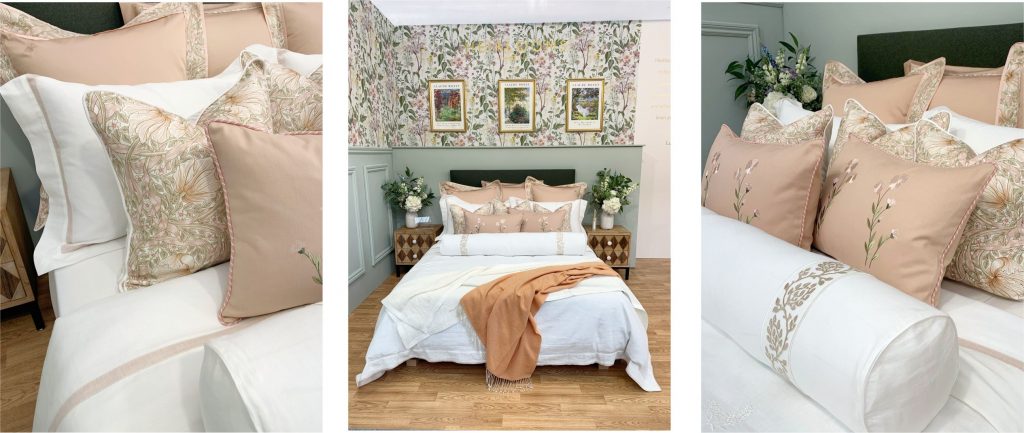 Also sharing the spotlight, our children's range was branded as adorably sweet. In keeping with the English garden theme, we brought to life little embroidered bugs and combined them with a sophisticated colour palette for our decorative cushion, laundry bags and bed linen. The sun shone down on the metallic threads and caught people's eyes with their glistening detail.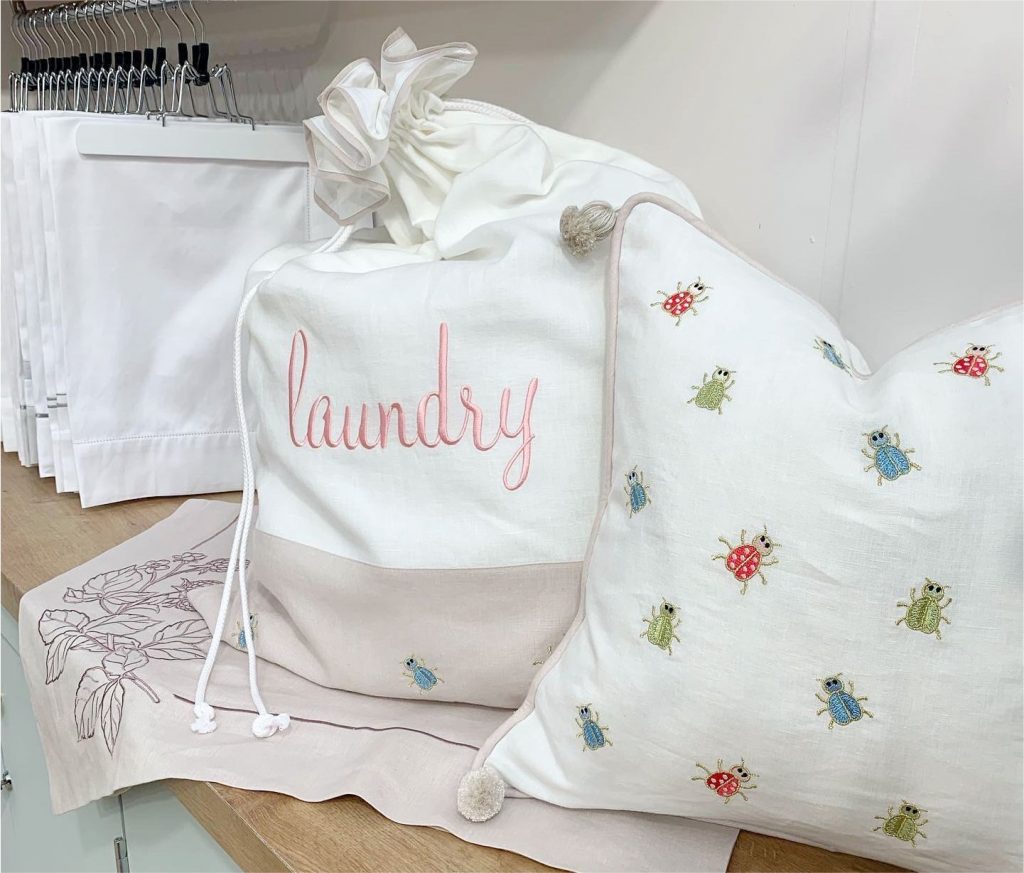 To emphasise Heirloom's manufacturing and creative skills, our display wall had a mix of sensational embroidery designs, eclectic patterns and sumptuous haberdasheries. On display, we continued with floral embroideries and introduced new patterned fabrics called "Nakuru", "Pressed Flowers" and "Ariyana". We also displayed two linen collections designed by students from a local school for their work experience. Our two students spent a day of their work experience sketching new ideas specifically for the Decorex show. They introduced the "Pascal" collection and the "Summer Nights" collection. These were embellished with embroideries designed by them and carefully selected fabrics to accompany their creations, creating an impactful statement for the future designers in the industry.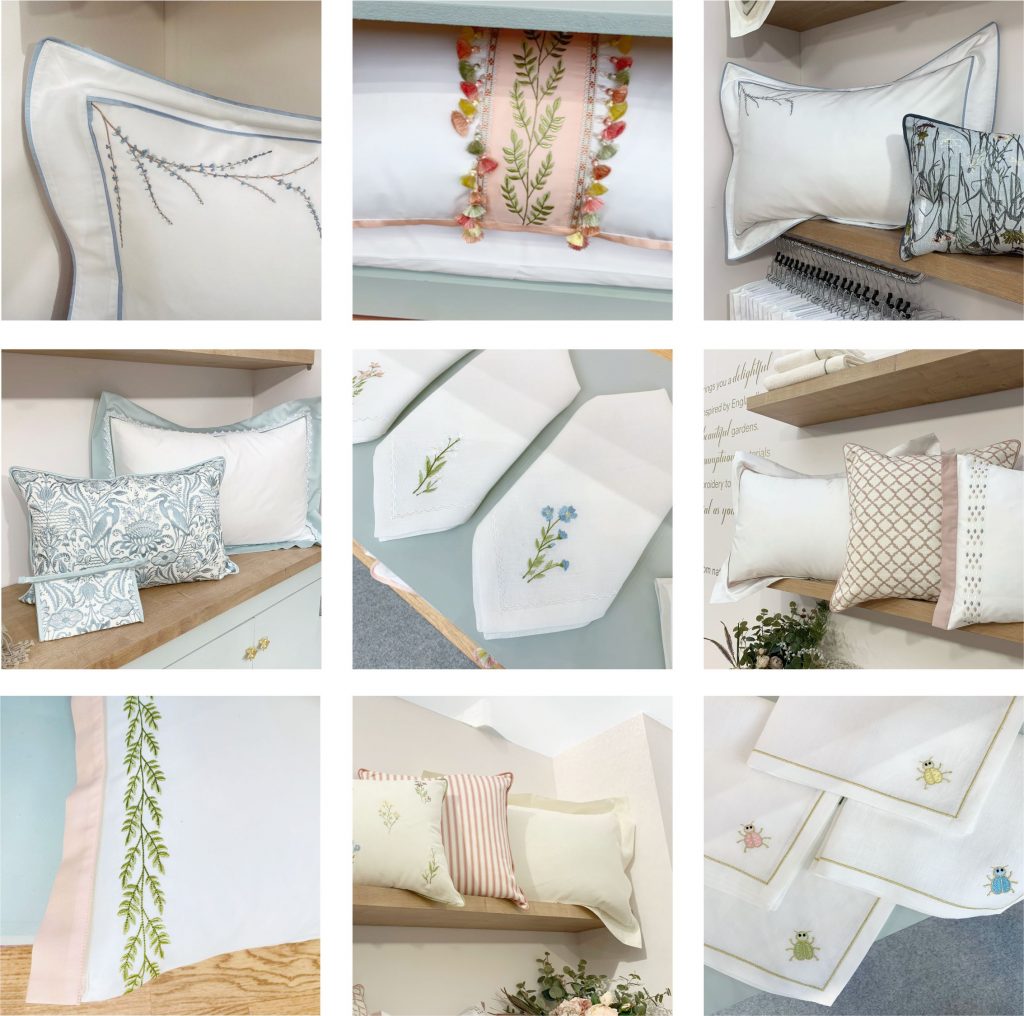 Our "English Home" was styled with luxurious faux florals, kindly donated by Grace & Eden who worked with our design team to provide arrangements that added warmth, exquisiteness and that English vibe. The Blush Meadow and the Sweet Violet arrangement brought a very homely feel to the stand whilst a large bespoke arrangement was put together for the front desk for that wow factor.
[caption id="attachment_12037" align="aligncenter" width="1024"]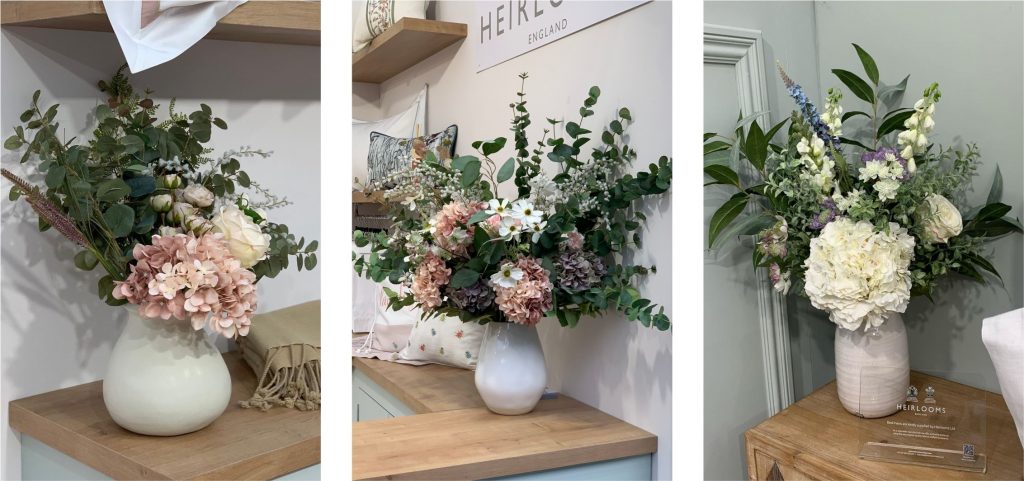 On the left, the Blush Meadow arrangement, in the middle is the bespoke display and on the right, we have the Sweet Violet arrangement to complement the bed display.[/caption]
As part of our commitment to luxury English brands, we worked alongside the internationally renowned designers Hill House Interiors who were designing the stand for Epoc Beds. We were delighted to supply a selection of pillowcases which complemented their natural tones and textures and included a new chain link embroidery inspired by Gucci's iconic jewellery.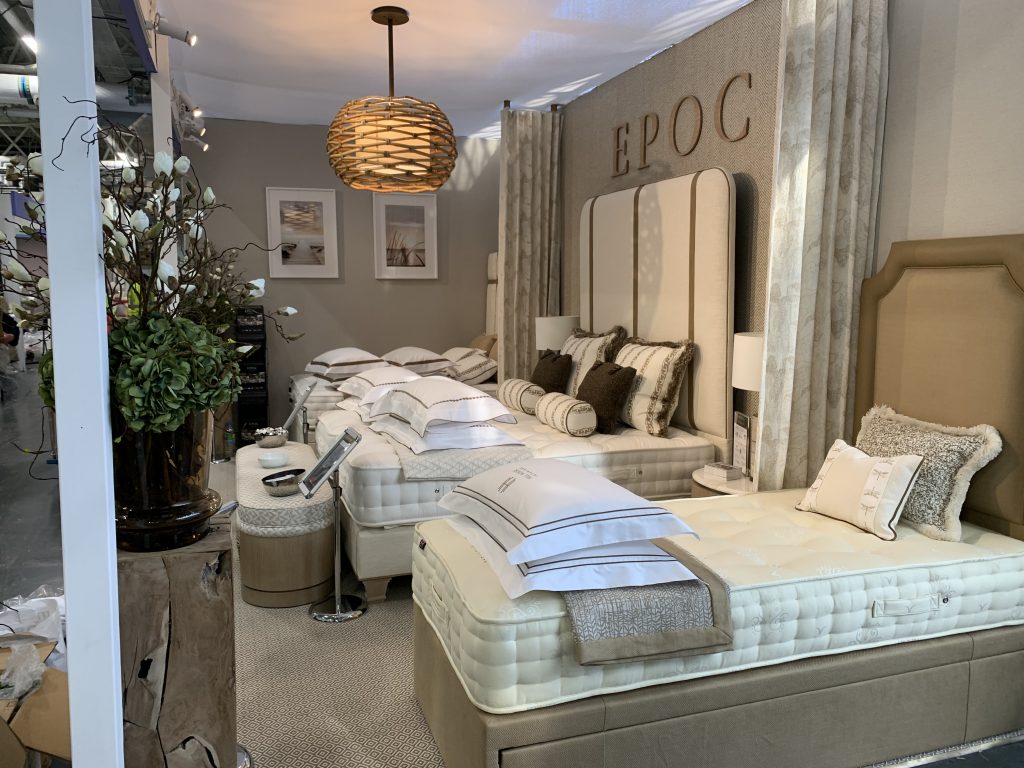 As the show drew to a close, we reflected on the wonderful week at Decorex, catching up with friends and meeting new professionals. It is a pleasure to offer linens with our bespoke nature, bringing comfort and style to your every day. We truly enjoy being able to demonstrate new ideas and to use our creativity when discussing our client's linens requirements for their unique projects.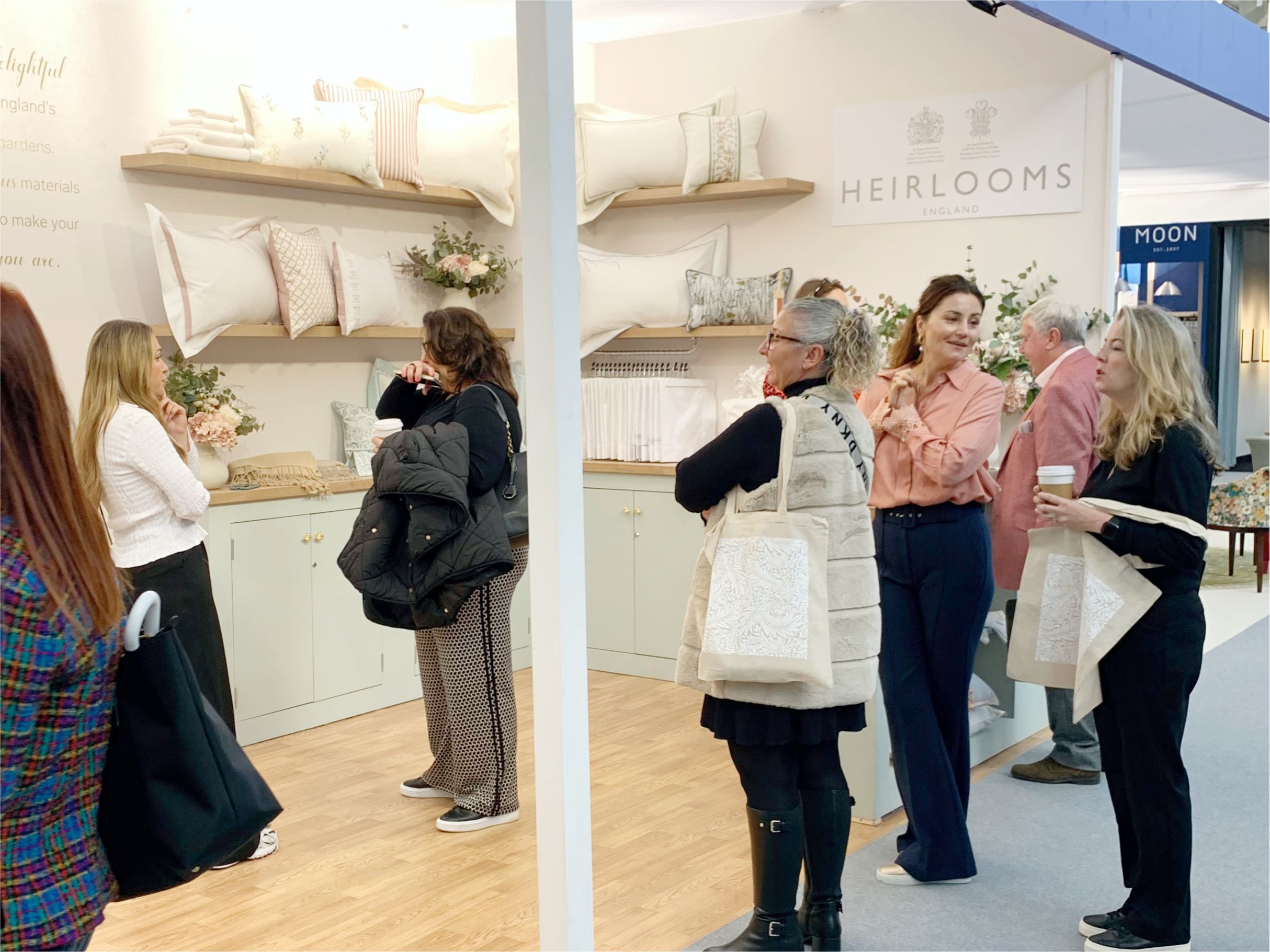 Our next event is Chelsea Design Centre's "Twinkle of Christmas" fair where Heirlooms will be showcasing a variety of Christmas bed linens, table linens and throws, available to buy in time for the festive season. The fair starts 30th November to 3rd December and we hope to see you there.
Now it's time to start looking ahead and planning for Decorex 2023 for another fun filled design driven show.